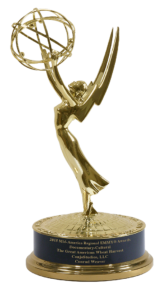 ConjoStudios, LLC is an EMMY® award-winning, full-service video production company based in Frederick County, Maryland. We love to help companies and organizations tell their story through powerful, engaging videos. We've produced marketing and sales videos, documentaries,  commercials, and promotional videos for all types of companies and organizations. Clients appreciate our attention to detail and the top quality customer service we provide, and of course, the high quality video footage we produce!
If you're looking for professional-grade video for your web site, social media page, or marketing program, or if you need a television commercial, give us a call and tell us what you're dreaming of! We'd love to hear it and have a chance to help you turn your vision into reality. 
For a free estimate on your next project, call 301-606-7794. Or CONTACT US via email.
– Conrad, President & CEO
ConjoStudios, LLC is a top Frederick, MD videographer on Videographies.com!