Production Begins on Documentary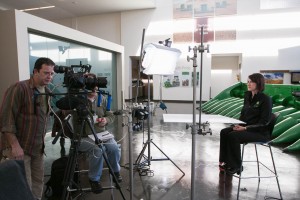 Great American Wheat Harvest Documentary Filmmaker Launches 2013 Production at John Deere Harvester Works Factory in Moline, Ill.
Frederick, MD – Jan. 23, 2013 – The Great American Wheat Harvest (GAWH) documentary filmmaker, Conrad Weaver of ConjoStudios, LLC announces the film's 2013 production launch beginning with footage he recently shot at the John Deere Harvester Works Gold Key Factory Tour in Moline, Ill.
As a GAWH Legacy Sponsor, John Deere Moline factory executives and staff members opened its factory doors for the documentary film crew to record Jim and DeAnn Deibert of JKD Harvesting, a premier custom harvesting business based in Colby, Kan, as they took their fourth exclusive Gold Key Experience tour to pick up their John Deere STS combines.
While wheat harvest footage featuring the JKD Harvesting crew can be seen in the original GAWH trailer, Weaver says capturing the Deiberts with their new combines brings perspective to the innovative processes that exist today to help farmers and harvesters become even more productive in what they do. "We appreciate John Deere and their hard-working staff for helping us tell the Great American Wheat Harvest story," he says.
Great American Wheat Harvest Legacy Sponsors will receive national recognition during pre- and post-production and credited for their support of the success at the film's premieres and during distribution. John Deere celebrates 176 years as a long-time leader in agricultural equipment and technology.
Jennifer Hartmann, John Deere communications manager, says the Gold Key Tour experience gives its customers behind-the-scenes access to the factory, personalized interaction with the employees and an opportunity to start their own combine for the first time with a skilled Harvester Works operator.
"There is always a great sense of pride in the building when our employees can personally thank customers, who have a direct connection to those who produce and harvest the food we all eat," Hartmann says. "We appreciate how the Great American Wheat Harvest documentary film will tell the complete 'farm-to-table' story by including the important role
harvesting equipment helps to increase efficiency in the field."
The Deiberts started their harvesting business in 1971 and have grown from a one combine operation to several STS John Deere combines with a variety of headers, grain carts and trucks. They travel May through December from North Central Texas to North Dakota harvesting crops such as wheat, oats, barley, durum, spring wheat, field peas, flax, wet corn,
soybeans, dry corn, milo, and sunflowers. "We've know many of our customers for more than 20 years," Jim Deibert says. "We rely on our customers to raise good crops, and they rely on us to bring good people and equipment to
harvest them."
Deibert commends Weaver for producing the Great American Wheat Harvest film. "This story has needed to be told for a long time," he says. "Not only from an historical aspect, but to help the American people understand what wheat growers and custom harvesters go through to produce the food that ends up on their table."
Follow the film's 2013 production schedule and wheat harvest at www.greatamericanwheatharvest.com and find out how you can help and make a financial contribution to the development and education of telling this vital story of North America's agriculture. For more information about sponsorship packages, media interviews, speaking appearances of the filmmaker and questions, contact Jody L. Lamp, National Executive Co-Coordinator, at (406) 698-9675 or by email at jody@greatamericanwheatharvest.com.